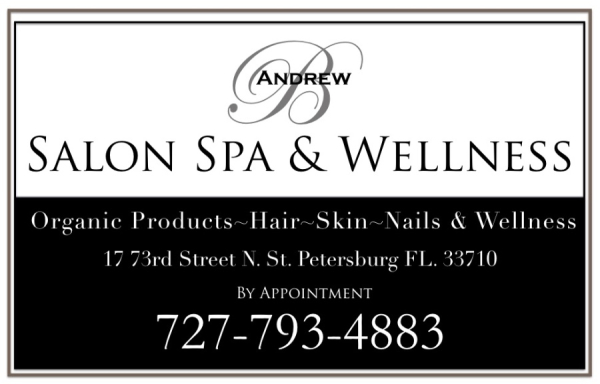 Salon & Spa Hours
Tuesday: 8am-6pm
Wednesday: 8am-2pm
Thursday: 8am-2pm
Friday: 9am-2pm
Saturday: 8am-2pm
Free Consultation for New Clients
Please Call
To Book Your Appointment
727-793-4883
Salon Address
17  73rd Street N.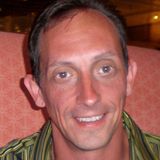 A ndrew Guilfoil
Andrew, is a licensed cosmetologist, esthetician, skin care expert, LMT, Reflexologist and product developer.  His studies include cosmetology, natural medicine, herbology, touch for healing, massage therapy, nuero-muscular therapy, anatomy and physiology, fitness, nutrition and classical ballet.
Andrew is the founder of B Andrew Skin Care LLC. which produces pure, organic, hand-crafted skin care products. He is also the full time stylist, esthetician and nail tech at the B Andrew Salon & Spa.
"I look forward to meeting and working with each client and their specific hair, skin or nail care needs"
B Andrew Organic Salon, Spa and Wellness Center is a unique spa offering personalized services in a comfortable, relaxing and professional environment.
We offer a full service salon offering hair, skin and nail services as well as our unique botique and wellness space for personalized movement classes and wellness seminars.  
Salon Services
Women's Hair Cut & Style
Men's Cuts
Shampoo, Blow Dry & Style
Color, Hi-Lites, Low-Lites & Correction
Body Waves & Perms
Keratin Treatments
Permanent Straightening
Hair Extensions
Weddings & Special Occassions
Natural Manicure$25.00
Includes hand, nail and cuticle care nail shaping, hand massage and nail buffing 
​Spa Manicure $35.00

Includes a full hand masque, massage, nail and cuticle treatment and shellac or polish.
Gel- Over-Lay $35.00
Includes basic manicure and a full Gel-over lay on each natural nail.
Sculpted Gel - Nails $65.00
Includes a set of Tips , Gel over lay, filing, buffing and full cuticle treatment followed with polish or French maincure.
Mens Manicure$25.00
 Includes cuticle care, nail shaping and trimmingand a finishing nail buff
Spa Services
Wellness
Mini- Organic Facial  $35.00
Includes detoxification masque, steam, exfoliation, cleansing, facial and Sinus massage. the Mini Organic Facial is about 30 minutes 
Organic Spa Facial $65.00
Includesa full detoxification masque, steam treatment, exfoliation, extractions, cleansing, damage and anti-aging serum with a full lymph, sinus, head and neck treatment.  Each Organic Spa Facial is about 60 minutes.
Pure Glycolic Skin Peel & Facial $85.00
Includes a full Organic Spa Facial and the pure Glycolic facial peel. About 60 minutes.
Additional Treatments that may be added to your Facial include:

​Alpha Hydroxy $15.00

Eye Brow Tinting $10.00

Eye Brow Shaping/Waxing $15.00
Lip & Chin Waxing $10.00
Natural Pedicure $35.00
Includes a mineral foot bath, nail & cuticle care and a polish or buff
Spa Pedicure $65.00
Men's Pedicure $25.00
Includes a hot foot soak, nail care, cuticle care, shaping, foot massage and a gentle men's nail buff.